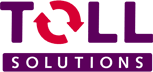 LEGAL NOTES

Data protection

When making use of our services you will possibly be requested to provide personal
information. The reply to such requests is voluntary. Your personal data are stored
and processed according to German data protection regulations.

The personal data obtained via the website of TOLL SOLUTIONS GmbH are used for order
processing, processing of your enquiries and advertising. Should you not agree to the use
of your data for our services or advertising, you can at all times make a contradiction.
Should a declaration of agreement on your part to the abovementioned purposes
include transfer of data to a third party, these data may be passed on.